Exzellenz. Präzision. Verlässlichkeit.
Als weltweit führendes Unternehmen in den Bereichen Polarimetrie, Refraktometrie, Dichte- und Konzentrationsmessungen sind wir bestrebt, innovative und zuverlässige Produkte für die Welt zu entwickeln und zu verbessern.
Unser Ziel ist es, eine nachhaltigere Zukunft zu schaffen, indem wir hochpräzise und zuverlässige Messdaten liefern. Damit helfen wir Unternehmen und Forschern, fundierte Entscheidungen zu treffen, wenn es um die Optimierung und Steuerung von Produktionsprozessen geht.
SCHMIDT + HAENSCH arbeitet mit dem Kunden zusammen, als Team.  Gemeinsam entwickeln wir neue, wegweisende Technologien für die industrielle Messtechnik, die wissenschaftliche Forschung und pharmazeutische Anwendungen – und profitieren dabei immer von der langjährigen Geschichte und dem technologischen Know-how des Unternehmens.
Reliable service and maintenance in more than 100 countries guarantees customers rapid support and answers to their application and service queries
We want to see our clients grow. Our highly skilled team is always at your disposal to find solutions to your measurement needs. 
Cutting-edge technologies are developed with our long- standing academic partners and high investment into R&D and quality management. 
Absolute measuring accuracy is our mission. Since 150 years we specialize in polarimetry , refractive index , colour and density, concentration and automated pH-measurement for liquid as well as solid substances.
We offer a wide range of laboratory services in-house, certified measurements and scaling,  norm conformance and GLP/ GMP compliance documentation. 
SCHMIDT + HAENSCH is a family owned company, valuing human rights, diversity, equality of opportunity and the protection of our natural environment.   
SCHMIDT + HAENSCH is a family owned company, valuing human rights, diversity, equality of opportunity and the protection of our natural environment.   
150 years of German Engineering experience at it's best: Developing cutting-edge technologies with high adaptability and flexibility in use.
Schaffung innovativer, zuverlässiger Produkte für die Welt
Unsere Präzisionsinstrumente werden weltweit vertrieben – und wir bieten zuverlässig internationalen Kundensupport und Schulungen für unser Produktportfolio.
Wir wollen, dass unsere Kunden wachsen. Wir helfen Ihnen dabei, Ihre Instrumente so einzusetzen, dass Ressourcen effektiv eingespart werden und Ihre Produkte die höchste Qualität erhalten.
Aber damit hören wir nicht auf. Unser Ziel ist es, sowohl die Qualität als auch die Zukunft Ihres Produkts zu sichern. Mit unseren Servicepaketen stellen wir die langfristige Wartung und Genauigkeit Ihrer Messgeräte sicher.
Unsere kontinuierliche technologische Innovation beruht auf unserem hochqualifizierten internen Produktionsteam sowie auf unserer engen Zusammenarbeit mit der Wissenschaft. Unser Netzwerk von Partnern und Forschungsverbänden hilft uns, an der Spitze des technologischen Fortschritts zu bleiben.
Das Unternehmen SCHMIDT + HAENSCH setzt auf langfristige Partnerschaften mit Kunden und Mitarbeitern sowie auf den Dienst an der Allgemeinheit.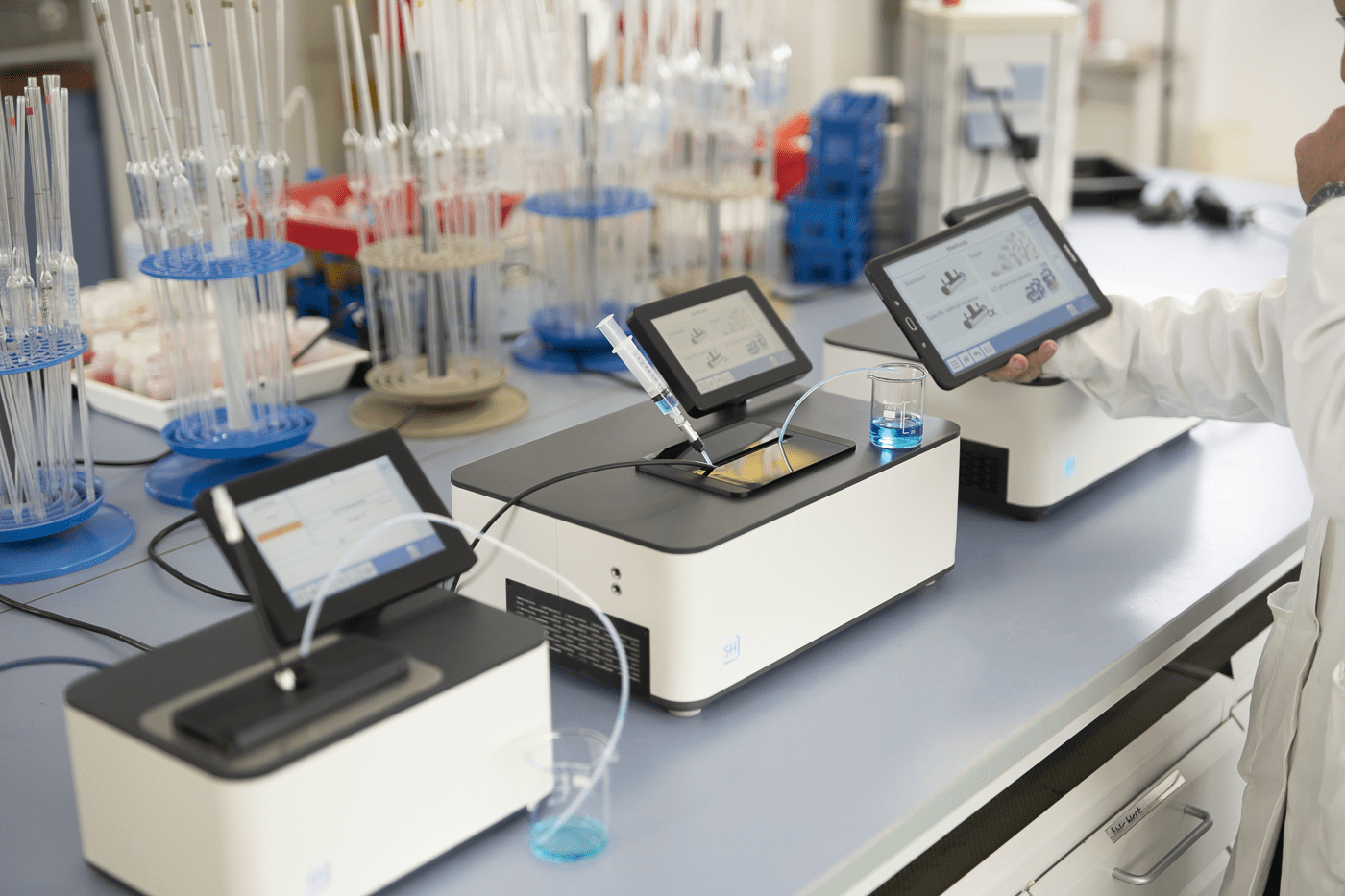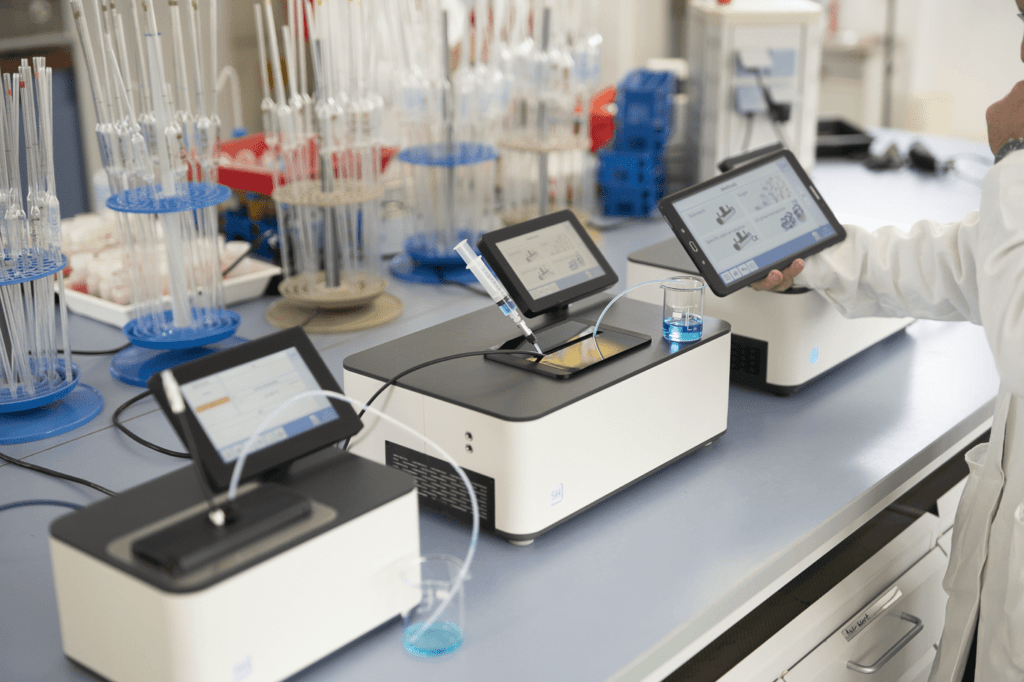 Unsere Hauptabteilungen sind:
Der modulare Aufbau der SCHMIDT + HAENSCH-Messgeräte und -Systeme auf der Basis hochpräziser Mechanik und Optik ermöglicht eine hohe Flexibilität und den Aufbau kundenspezifischer Systeme.
SCHMIDT + HAENSCH-Geräte stehen für Exzellenz, Präzision und Zuverlässigkeit.
Lösungsorientiert und anpassbar
Unsere Produkte sind die Antwort auf Ihre Messbedürfnisse. Wir sind davon überzeugt, dass wir unsere Instrumente in enger Zusammenarbeit mit unseren Kunden entwickeln und Lösungen für neue Herausforderungen in einer Vielzahl von Branchen finden. Unser Team aus hochqualifizierten Forschern und Entwicklern steht Ihnen zur Verfügung, und wir sind bestrebt, Hand in Hand mit unseren Kunden zu lernen, zu wachsen und uns weiterzuentwickeln.
SCHMIDT + HAENSCH arbeitet mit einem hochqualifizierten Team von Produktmeistern, Entwicklungsingenieuren und Fertigungsspezialisten daran, die hohe Produktqualität zu erhalten und seine Position als weltweiter Marktpionier zu behaupten und auszubauen. Unser Expertenteam mit Sitz in Berlin und über 150 Vertriebspartner in aller Welt sorgen dafür, dass alle SCHMIDT + HAENSCH-Geräte ihrem guten Ruf gerecht werden. Die Kernkompetenz von SCHMIDT + HAENSCH – Exzellenz in Präzisionsmessung und Produktion – und der enge Kontakt zur Wissenschaft sind die Grundlage für die Qualität der
Geräte von SCHMIDT + HAENSCH.
Seit seiner Gründung im Jahr 1864 ist das Familienunternehmen ein führender Anbieter von optoelektronischen Messgeräten. Heute umfasst das Produktportfolio Polarimeter, Refraktometer, Photometer und prozessanalytische Systeme für die Lebensmittel-, Pharma-, Chemieindustrie und viele mehr. Eine neue Generation von Dichtemessgeräten erweitert unser Geräteprogramm für die Flüssigkeitsanalyse und verbindet jahrzehntelanges Know-how mit modernster Digitaltechnik.
Die Geräte von SCHMIDT + HAENSCH sind bekannt für ihre hohe Präzision und Spitzentechnologie mit unerreichter Robustheit und Produktlebensdauer.
Ein Meilenstein für das Unternehmen war die Entwicklung des ersten Polarimeters nach dem Quarzkeilprinzip im Jahr 1863. Unsere Polarimeter – die ersten von SCHMIDT + HAENSCH auf den Weltmarkt gebrachten Labormessgeräte – markieren den Beginn eines völlig neuen Produktionsfeldes und einer neuen Messtechnik.