The Company Culture at SCHMIDT + HAENSCH
Excellence. Precision. Reliability.
As a world leader in polarimetry, refractometry, density, and concentration measurements, we are committed to developing and improving innovative, reliable products for the world.
Our mission is to create a more sustainable future by providing highly accurate and reliable measuring data. With that, we help businesses and researchers in making well-founded decisions when it comes to optimizing and controlling production processes.
SCHMIDT + HAENSCH works together with the customer, as a team.  Together, we develop new, groundbreaking technologies for industrial measurements, scientific research, and pharmacological applications – while always benefitting from the company's long-standing history and technological know-how.
High Precision
Absolute measuring accuracy is our mission. Since 160 years we specialize in polarimetry, refractive index determination, colour and density, in-line concentration and on-line automated pH-measurement for liquid as well as solid substances.
Research driven
Cutting-edge technologies are developed with our long-standing academic partners, along with high investment into R&D and quality management.
Validation Service
We offer a wide range of laboratory services in-house, certified measurements and scaling, norm conformance and GLP/ GMP compliance documentation.
We work WITH you
We want to see our clients grow. Our highly skilled team is always at your disposal to find solutions to your measurement needs.
Worldwide Service
Reliable service and maintenance in more than 100 countries guarantees customers rapid support and answers to their application and service queries.
Validation Service
We offer a wide range of laboratory services in-house, certified measurements and scaling, norm conformance and GLP/ GMP compliance documentation.
Our Values
SCHMIDT + HAENSCH is a family owned company, valuing human rights, diversity, equality of opportunity, and the protection of our natural environment.
Creating innovative, reliable products for the World
Our precision instruments are distributed on a worldwide scale – and we reliably provide international customer support and trainings for our product portfolio.
We want to see our clients grow. We will help you to use your instruments, so that resources are saved effectively while your products maintain their highest quality. 
But this is not where we stop. We aim to ensure quality as well as the future of your product. With our service packages we ensure long-term maintenance and accuracy of your measuring instruments.
Our continuous technological innovation is rooted in our highly skilled in-house production team as well as in our close collaboration with the scientific community. Our network of partners and research associations help us to stay on the forefront of technological advancement.
The company SCHMIDT + HAENSCH is committed to long-term partnerships with customers and employees as well as to service to society in general.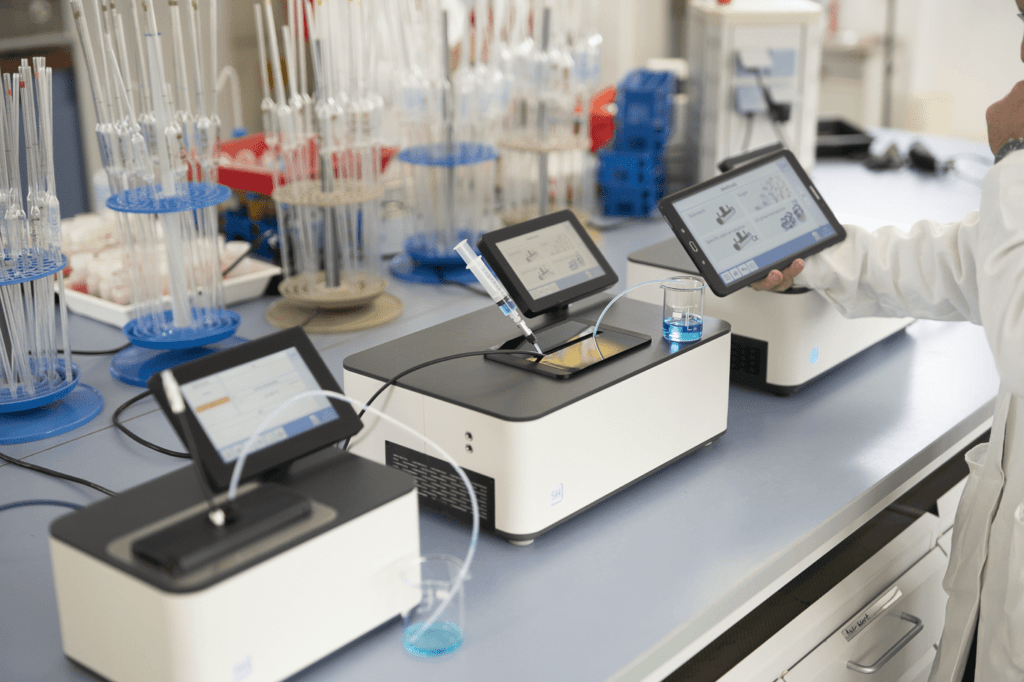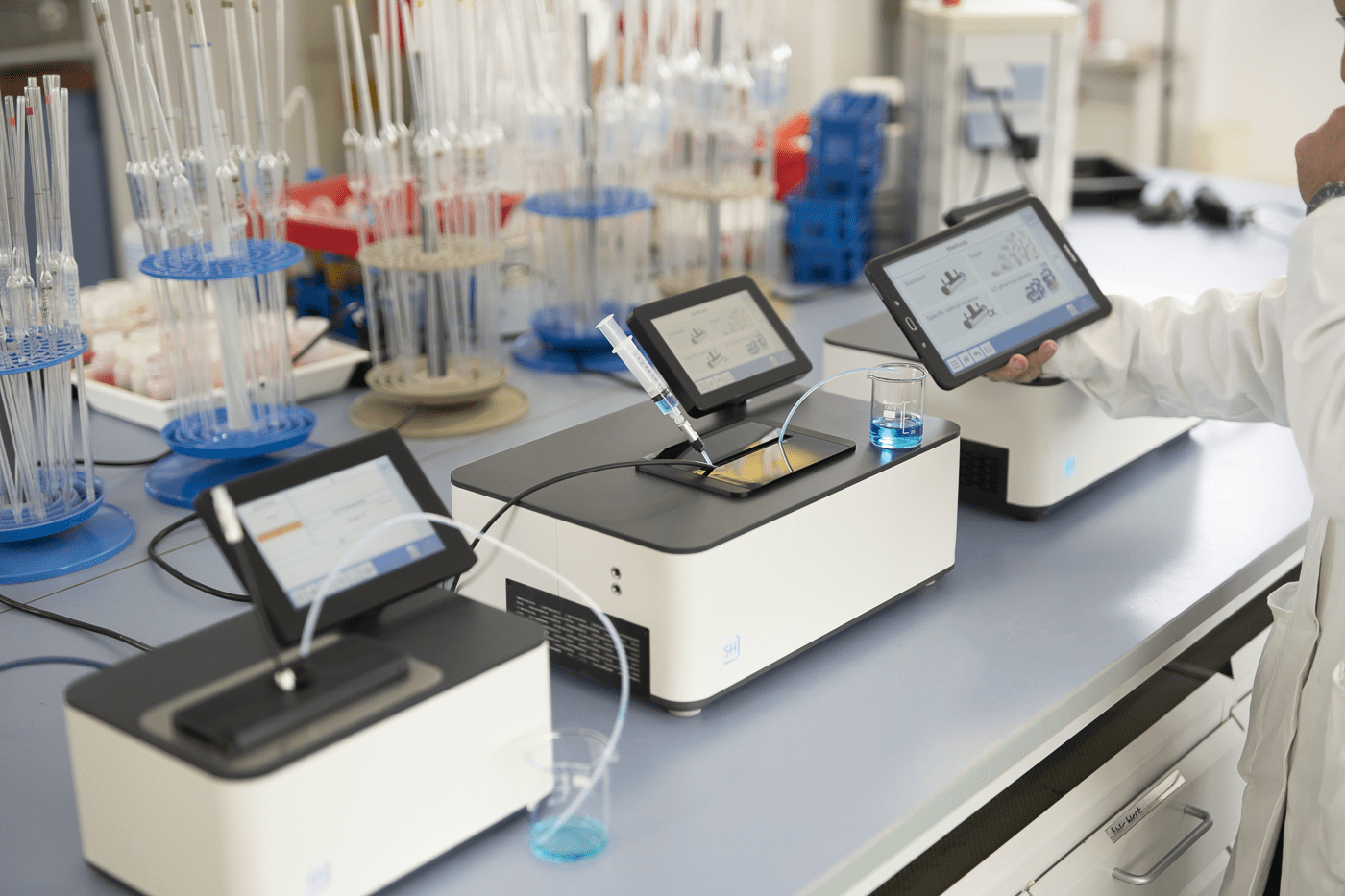 Based on highly precise mechanics and optics, the modular structure of SCHMIDT + HAENSCH measuring instruments and systems allows for high flexibility and for building customized systems.
SCHMIDT + HAENSCH instruments stand for excellence, precision, and reliability.
Solution-oriented and customizable
Our products answer to your measuring needs. We believe in developing our instruments in close cooperation with our customers and finding solutions to new challenges across a broad range of industries. Our team of highly skilled researchers and developers is at your disposal, and we are keen to learn, grow, and develop hand-in-hand with our customers.
SCHMIDT + HAENSCH works with a highly qualified team of product champions, developing engineers, and manufacturing specialists to maintain a high product quality and to assert and improve its position as a worldwide market pioneer. Our team of experts, based in Berlin, Germany, and over 150 distribution partners around the world ensure that all SCHMIDT + HAENSCH instruments live up to their excellent reputation. The core competence of SCHMIDT + HAENSCH – excellence in precision measurement and production – and our close contact to the scientific community are the foundation for the quality of

SCHMIDT + HAENSCH's instruments.
Since its founding in 1864, the family-owned company is a leading provider of optoelectronic measuring instruments. Today the product portfolio comprises polarimeters, refractometers, photometers, and process analytical systems for the food, pharmaceutical, chemical industries, and many more. A new generation of density meters advances our instrument range for liquid analysis, combining decades of expertise with latest digital technology.
The instruments of SCHMIDT + HAENSCH are known for their high precision and cutting-edge technology with unrivaled durability and product longevity.
A milestone for the company was the development of the first polarimeter using the quartz wedge principle in 1863. Our polarimeters – the first laboratory meters introduced to the world market by SCHMIDT + HAENSCH – mark the beginning of an entirely new production field and measuring technique.