Setup, manuals and technical support for clients
As a SCHMIDT + HAENSCH client, you can create and follow up on support cases, view your service contracts and request spare parts. 
Our main technical support includes instrument setup, one-time trouble shooting, programming aid and re-calibration of your instruments. Hardware services may have to be performed on-site or at our in-house laboratory but a majority of cases can be solved online. To facilitate regular instrument maintenance, we also offer annual service packages.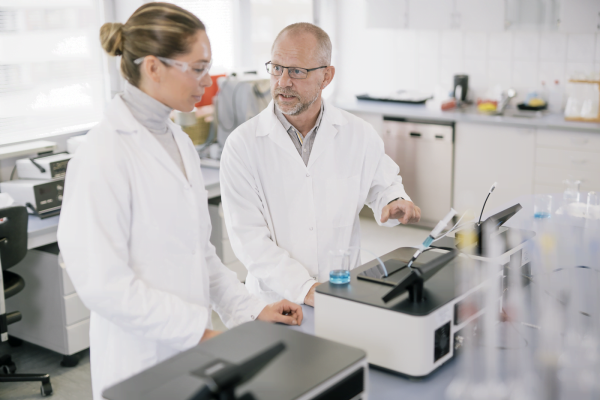 Instrument Setup
Optimize the operation of your measuring instrument. All SCHMIDT + HAENSCH measuring instruments are interconnectable. We can help you set up your instruments so you can optimize their performance. 
To achieve an optimal operation of all your laboratory devices, including data acquisition systems, as well as to ensure the performance of all components, we offer you our support in installation, commissioning, and adjusting your devices.
Instrument Training
After setting up your instruments, you and your employees will be trained on how to optimize the performance of your SCHMIDT + HAENSCH devices. 
This training will also help your company unify internal GLP/GMP processes. Product trainings can take place on-site, at our headaquarters in Berlin, or online. 
As an accredited SCHMIDT + HAENSCH distributor, you automatically receive product related trainings which are included in your distributor program.
Instrument Maintenance
Make sure your devices continue to operate with the highest accuracy!
With our convenient maintenance service, we ensure the full functionality and constant measuring accuracy of your SCHMIDT + HAENSCH instruments. Our annual service packages provide maintenance at regular intervals. 
Our service technicians will check and recalibrate your devices on site. All maintenance activities will be fully documented. After a completed maintenance case, you will receive a re-certification for your equipment. 
We recommend using this service at least once a year. This ensures accurate measurement results at all times and extends the lifespan of your equipment.
Calibration & Reference Standards
According to international regulations and requirements, it is important to check the measuring accuracy of your devices at regular intervals. 
Our certified in-house laboratory offers the calibration of your measuring instruments. This service can be performed at your site or at our laboratory. 
The SCHMIDT + HAENSCH laboratory provides scale development and reference material. Furthermore, it is also possible to re-certify your reference standards at any time.
Spare Parts
We keep a large stock of spare parts and consumables that are available worldwide. 
Please do not hesitate to contact us.
Get in touch with us to receive a quote on technical support