Process Analytical Technology is defined by the FDA as a mechanism to design, analyze, and control pharmaceutical manufacturing processes through the measurement of critical process parameters that affect critical quality attributes of an active pharmaceutical ingredient (API) (from: Comprehensive Chirality, 2012).
However, PAT is a concept that can be applied to many other production processes, namely the chemical industry and the manufacturing of foods and beverages. Ian Clegg in Specification of Drug Substances and Products (Second Edition), 2020, introduces PAT as an "umbrella term that covers a range of tools and is often cited as being an important component of other innovative initiatives, such as quality by design, real-time release, and continuous manufacturing. PAT has brought together different disciplines, which was presumably one of the intentions of the Food and Drug Administration guidance "PAT- A Framework for Innovative Pharmaceutical, Development, Manufacturing and Quality Assurance.""
Hence, it becomes clear that different approaches to PAT can be used to describe a general overview of how processes can be designed and controlled to achieve an optimization and quality stability of a broad range of products. Process Analytical Technology (PAT) utilizes a variety of tools, such as spectroscopic and chromatographic compositional analyzers, fixed purpose sensors, automated and statistical data analysis and overall knowledge management methods. All of these technologies and methods are designed to provide information in a real-time or near real-time manner. Since the purpose of PAT is to improve the safety and quality of manufactured products, it must be incorporated into efforts leading to large-scale production such as early and late stage process development and process scale-up. The application of PAT methodology represents a technological and cultural shift in how a company or an industry approaches development, manufacturing, quality and safety.
To wit: PAT is now a major trend in multiple industries. Over the past twenty years, we have witnessed a shift from simply laboratory controls of chirality and quality to integrated models in-line and on-line with production processes. SCHMIDT + HAENSCH answers to those trends in specific by equipping all instruments, be it on-line automation, in-line refractometers or laboratory instruments with state of the art connectivity. It is now possible to design and integrate laboratory checks as well as in-line and on-line measurements intelligently into any production process, so that process costs can be reduced, product and process safety as well as hygiene is increased, human errors are eliminated and re-work becomes uneccessary. Moreover, intelligent measuring data integration speeds up the process cycle, facilitates regulatory acceptance and compliance, and overall creates a robust process that results in manufacturing of product that is right the first time round.
PAT is a crucial factor in knowledge management for continuous process improvement and continuous manufacturing.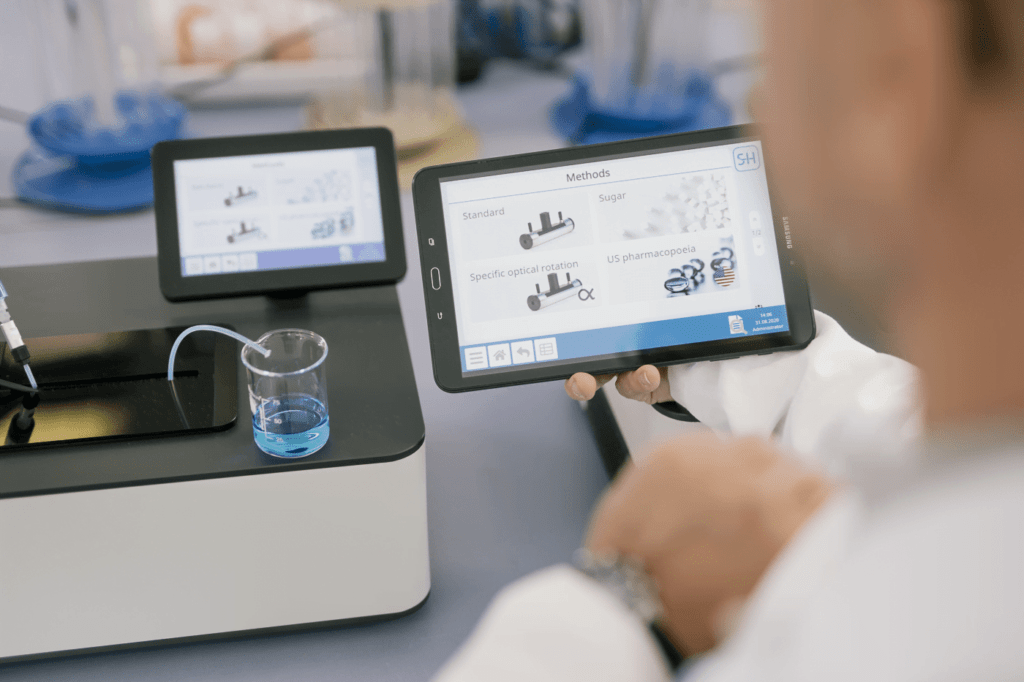 We at SCHMIDT + HAENSCH offer real time in-line or on-line analytics encompass technology including: