VariRef - Flow through pump
Peristaltic pump for automated filling
High torque grants the use of double channel pump heads and multiple pump heads
Up to eight channels
Rich variety of pump heads
Manual speed adjustment
Membrane keypad and rotary encoded switch, easy to operate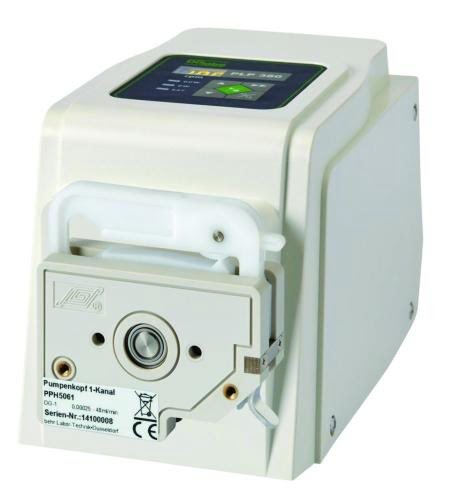 Learn more about this accessory
Different pump heads can be used with the Schmidt + Haensch Vari peristaltic pump, resulting in flexibility in your day-to-day usage and enabling multiple tubing sizes. Depending on the tubing material in use, this pump type can be used for various chemicals, corrosive and aggressive, as well as sterile solutions.
The user-friendly membrane keyboard enables the user to regulate the flow speed (RPM) using the switch arrays.
Furthermore the user can activate a "quick flow mode" by pressing the special button on the membrane keyboard.
Via external adapters for other signals, steering the pump externally is also possible. Additionally, a foot switch can be attached to the pump to enable the pumping function as long as the foot switch is activated.
ID-N° 17643
ID-N° 17645 Chemical resistant hoses 
Specifications
Speed:
0.1 to 100 rpm, reversible
Speed precision:
0.1 rpm
Speed control:
Membrane keypad and rotary encoded switch
Display:
128 x 64 graphic LCD displays flow rate and speed (rpm)
Communication interface:
RS485
Power supply:
220 Vac ± 10%, 50/ 60 Hz,
110 Vac± 10%, 50/ 60 Hz
Power consumption:
< 50 W
Operating condition:
0 to 40 °C
Relative humidity:
< 80%
Dimensions (L x W x H in mm):
202 x 160 x 239
Drive weight (without Pump Head):
5.34 kg
IP code:
IP 31
Do you have any questions about this product?