Petroleum / Crude Oil Measurement
Petroleum measurement and analysis using density analysis
It is difficult to analyze crude oil due to the highly complex chemical mixture. Density measurement is one of the most important and frequently used analysis methods.
API Gravity Determination in crude oil using the S+H VariDens 
Among the standard analyses of physical properties such as flash point, vapor pressure, and viscosity, density and specific gravity measurements are preferred liquid characterization procedures. To determine the API of crude oil in the petroleum industry it is not necessary to carry out very time consuming and complicated process steps such as density measurement with pycnometers or hydrometers. With the VariDens Density Meter from S+H the API gravity of the crude oil mixtures can be obtained through digital measurement of a minimal sample volume with an unmatched precision and measurement speed. With the high accurate temperature controlling unit, the VariDens can adjust quickly and reliably to the temperature range of the measurement cell and ensures that the International Standard Methods take place. Additionally, the instrument's integrated moisture and air pressure sensors allow the user to compare the results collected at the same ambient conditions. The device requires just a small sample size for the measurement. The VariDens can perform the API gravity measurement at various temperature levels, accurately and fully automated. The results can be obtained for further analysis and documentation on the PC.
Viscosity
The viscosity effect on density is neglectable for light oils and other low viscosity fluids. For viscous liquids the maximum viscosity error is 10-3  g/cm³. Schmidt + Haensch offers a manual viscosity correction.
Heated sample cell
For some heavy oils, heating is necessary to keep the oil sample in the liquid phase. The VariDens can heat the sample cell to high temperatures to enable the filling, removal of heavy oils, and cleaning of the sample cell. The cleaning procedures are easy and can be performed by using minimum amounts of solvents. With a robust and user-friendly touchscreen, the VariDens is prepared for the rough requirements of the petroleum industry. Standards for which the S+H VariDens can be applied: ASTM D4052-96: Standard Test Method for Density and Relative Density of Liquids by Digital Density Meter ASTM D5002-94: Standard Test Method for Density and Relative Density of Crude Oils by Digital Density Analyzer ASTM D1250: Standard Guide for Petroleum Measurement Tables ASTM D5931: Density and Relative Density of Engine Coolant Concentrates and Aqueous Engine Coolants by Digital Density Meter DIN 51 757: Testing of Mineral Oils and Related Materials; Determination of Density DIN ISO EN 12185: Petroleum Products – Determination of Density – Digital Density Meter Method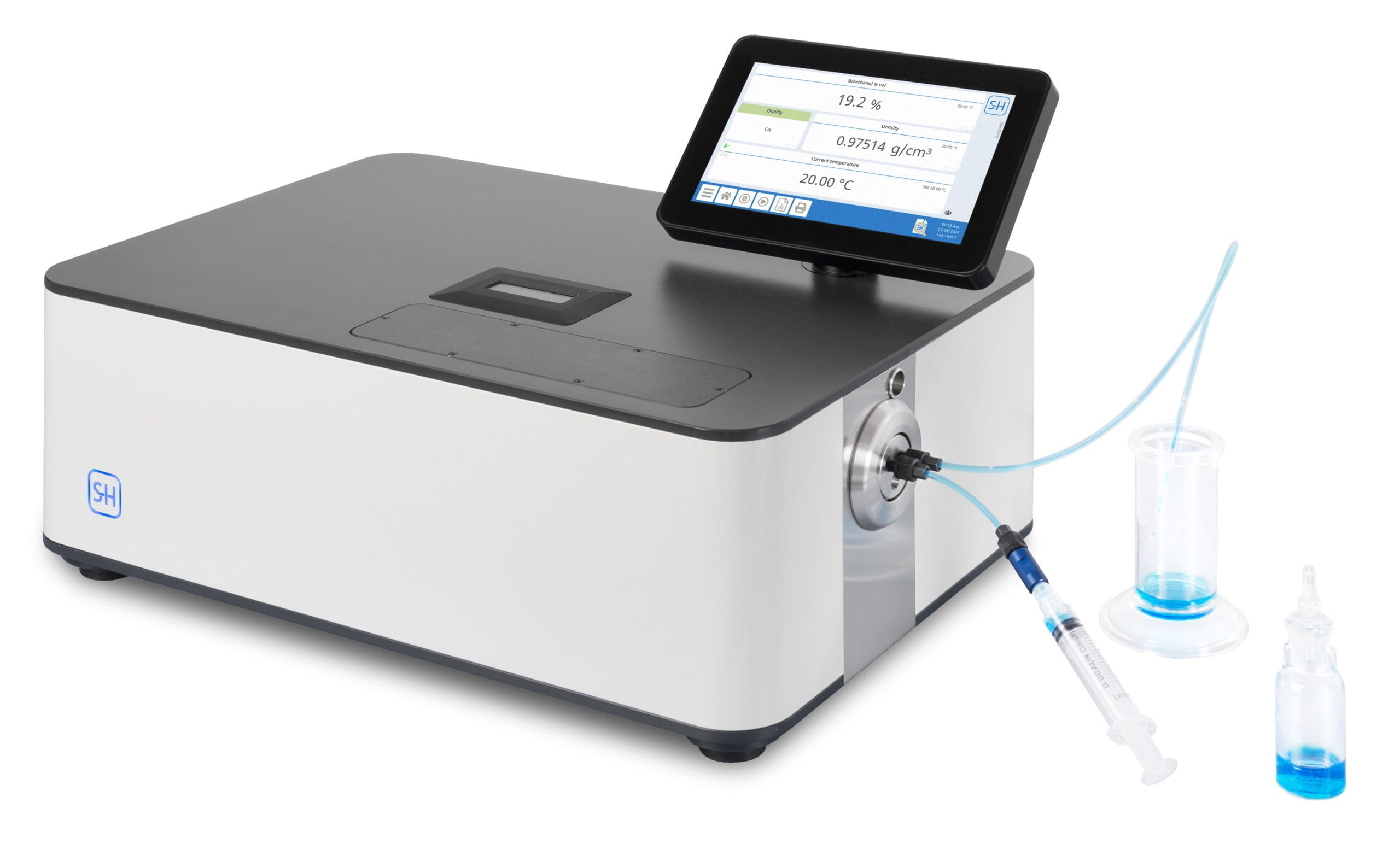 Density and concentration measurement
Do you have any questions for us?