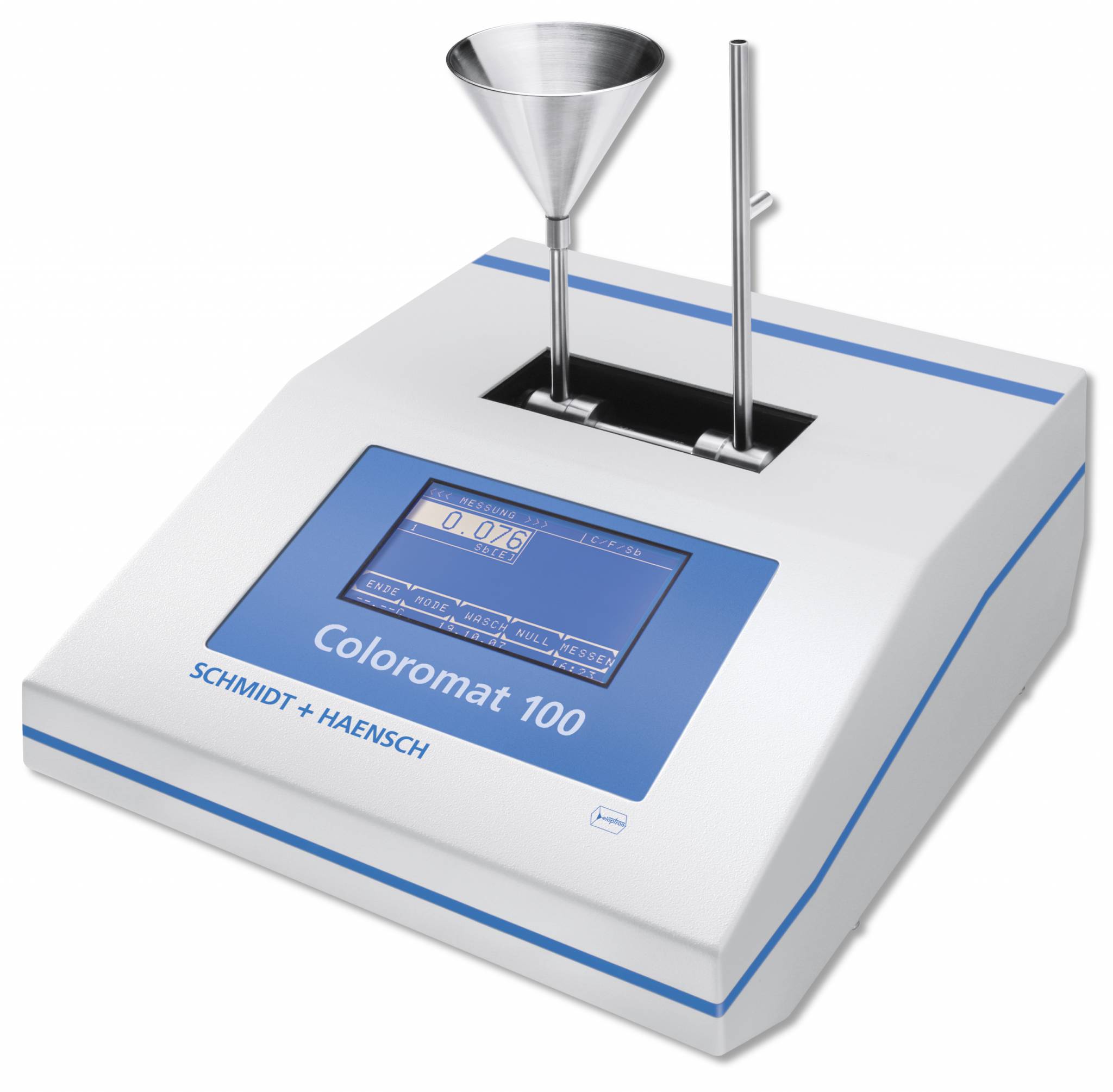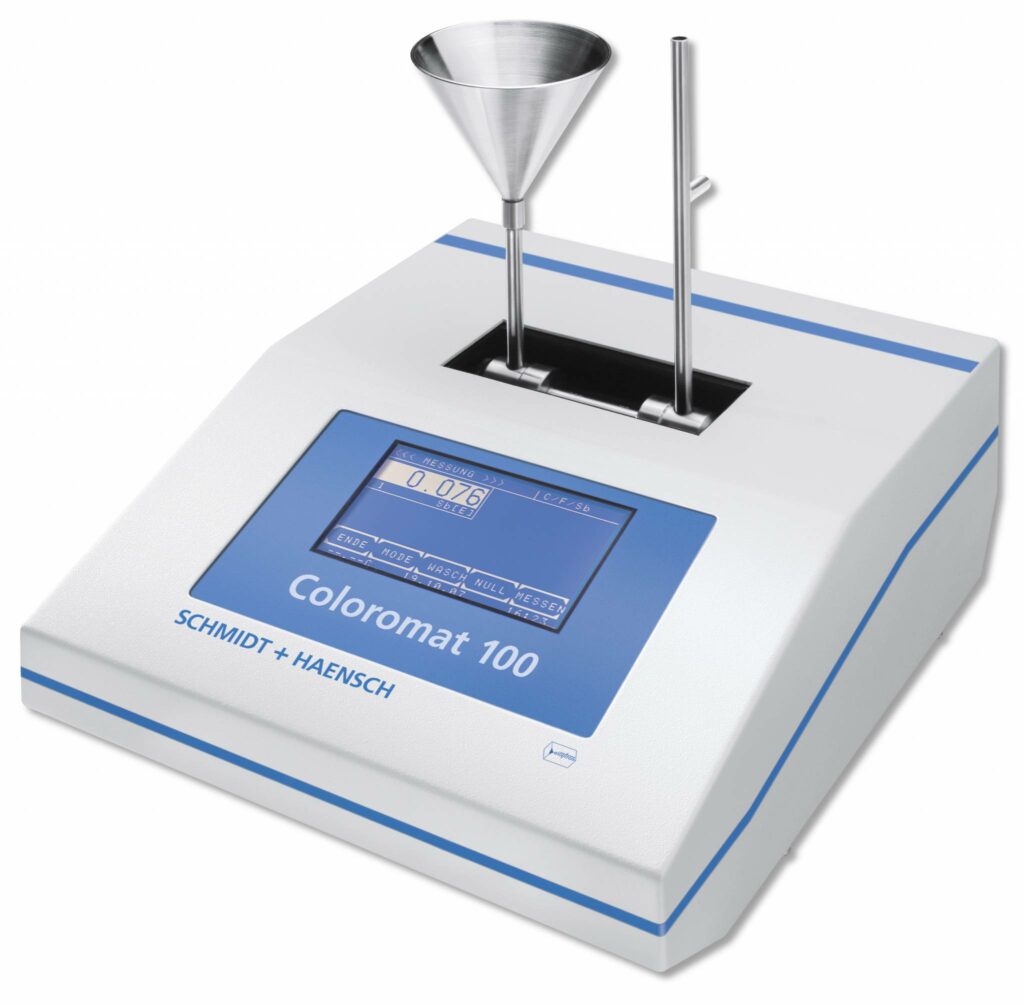 Spectrophotometer for Color Measurement
The Coloromat allows an easy and reliable color measurement of liquids. The Coloromat is equipped with a continuous measuring mode with free configurable sampling rate for monitoring color changes in product streams. Transmission, extinction, and ICUMSA liquid color units at the recommended standard wavelength 420 nm are standard with this product.
Measurement of transmission/extinction
Color determination of liquid samples
Up to nine fixed wavelengths
Polarimeter tubes up to 100 mm
Integrated ICUMSA methods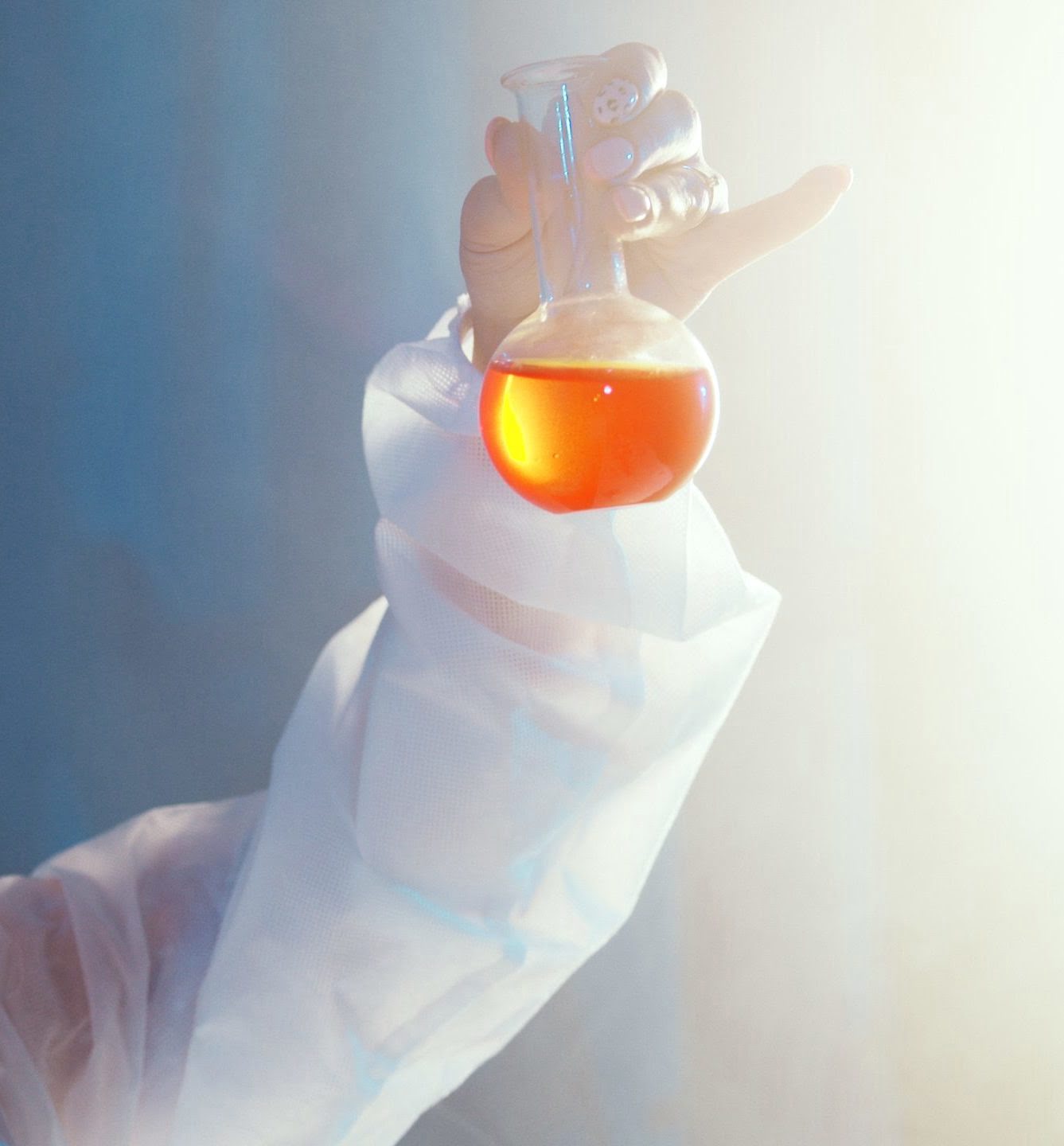 The touch screen is used for soft key functions and alphanumerical inputs which allow easy handling for example batch name, user, etc. The wavelengths are selected via the touch screen. Three wavelengths are pre-installed as standards, but the Coloromat 100 can optionally be equipped with six further customized wavelengths, allowing for a wide range of applications. Due to the generous dimensions of the sample chamber the use of polarimeter flow-through tubes up to 100 mm as standard cuvettes allows easy filling and a high throughput.
The sample compartment is open to the top and the bottom preventing pillage from entering the unit. Due to its unique optical design the Coloromat 100 is not affected by stray light.
The general operating software contained in the flash memory can be updated by PC (data file downloaded from Internet or CD ROM) and has capacity for 250 pre-programmed tests. Up to 230 tests can be stored in the RAM. The import of data by touch screen or PC are possible. Additionally, up to 2970 results of max. 99 samples can be managed in the memory.
Enzymatic determination
Color measurement of liquid crystal sugar (ICUMSA)
Color index determination of beverages, e.g. soft drinks, wine, etc.
Determination of the color of extracts  (coffee, and many more)
Color measurement of beer and wort (EBC color number)
Biochromate measurements
Multi-standard methods
Simple extinction measurements
Monitoring of time-dependent color changes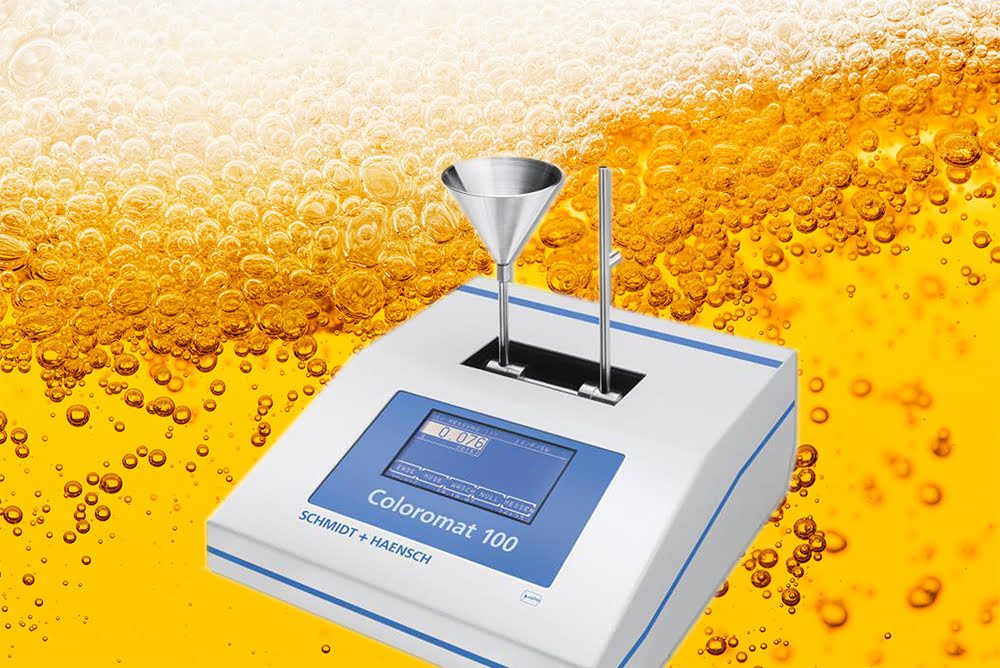 Objective and repeatable measurements
Three fixed wavelengths 420, 560 and 720 nm
Optional six further wavelengths (in the range 420 – 900 nm)
Automatic wavelength setting
Polarimeter cells up to 100 mm usable as well as rectangular cuvettes
Single or flow-through measurement
Remote control via PC
Data output to PC or directly connected printer
Up to 250 methods programmable
Internal data storage of results
GLP/GMP conform documentation
Measurement principle
Single beam photometer
Spectral range
340 – 900 nm
Pre-installed filters
420, 560, 720 nm
Wavelength selection
Automatic filter changeover switch for up to 9 wavelengths
Resolution extinction
0.001
Measurment precision
± 0.020 extinction 420 nm
± 0.010 extinction at 560 and 720 nm
± 0.020 extinction at optional filters
ICUMSA method
Measuring range
0 – 16.000 ICUMSA Units (IU)
Resolution ICUMSA
1 IU
Precision IU
± 10 % for colours < 20 IU
± 5 % for colours > 20 IU
Additional information
Light source
Halogen lamp, 12 V, 20 W
Display
Graphic display
Operation
Touch screen for direct functions and alphanumerical inputs
Interface
RS232C
Operating temperature
10 – 40 °C
Main connection
85 – 265 V, 47 – 63 Hz
Power consumption
90 V / 50 Hz – 42.5 W
90 V / 60 Hz – 41.8 W
110 V / 50 Hz – 41.3 W
110 V / 60 Hz – 41.3 W
230 V / 50 Hz – 41.1 W
230 V / 60 Hz – 41.1 W
Languages
English and German, others on request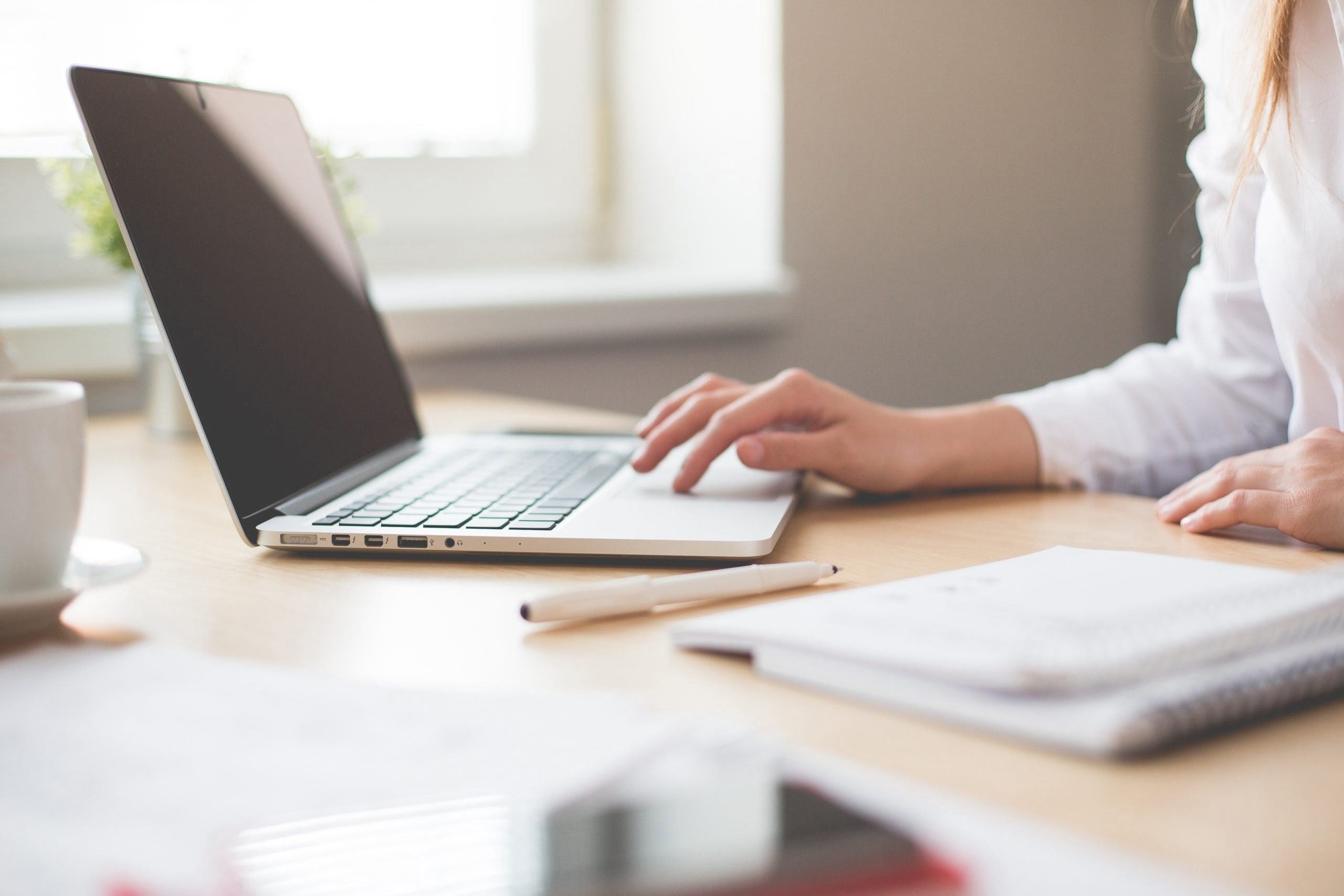 Learn more about this product